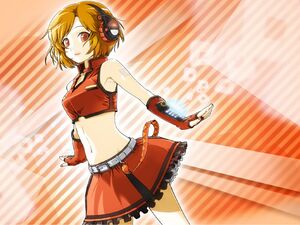 Sakine Meiko is an official derivative of MEIKO. She was created to be MEIKO when she was younger because MEIKO wasn't getting enough attention, everyone was more interested in younger vocaloids like Hatsune Miku.
Appearance
Sakine Meiko is a 16 year old girl with large brown eyes and light brown hair styled into a bob. She wears a short red top only covering her chest and a ruffly red skirt held up by a white belt. She also has fingerless red gloves and light brown boots with a fur trim.

Personality
Hyper and future alcoholic.